Work Page 10-21
1952 Wizard WG4
6 hp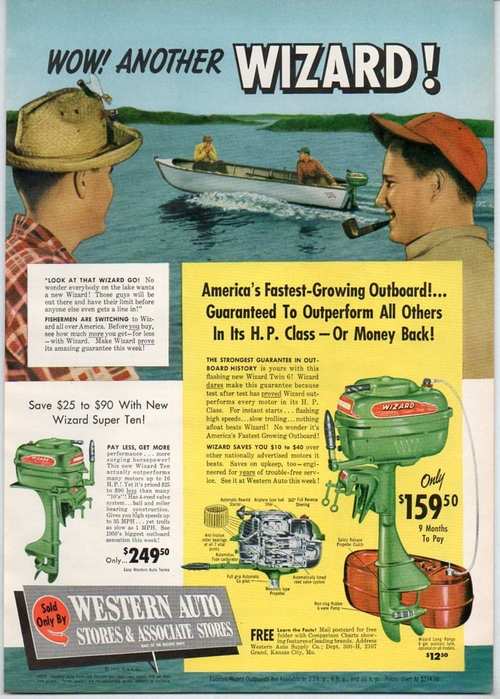 (Mercury KD4)
Marketed by Western Auto

Good original example
Candidate for restoration
First make run and cool
Ignition components cleaned - fresh fuel mix
First "Smoke" in over 30 yrs of Dry Storage
2 sec video
First run in test barrel
Motor ran well, water pump not pumping
Will go in and clean water passages next, fresh gear lube, then run again
Since the original water pump impeller is obsolete and now"unobtainium"...
I created a new one by taking a Johnson outboard impeller that had the same propshaft dia., and modiofied it for my needs.
The Wizard (Mercury) style impeller utilizes a brass bushing that is cogged to the impeller by 2 ears.
Then on the other side of the plate, is pinned to the clutch.
So I thinned the new one to correct thickness, shaved down the blade tips to the right length.
Then I had to thin the blades themselves by grinding out rubber to make them have the flex that they needed.
The video is the result, the water is flowing thru the motor and can be seen spitting out the exhaust holes in the leg.
I do not know how long it will last, but I do know now that the motor will run and flow water.

You can scroll back up to the picture gallery section, to see the process.